My footsteps echoed through the empty rooms of our beloved home, once filled with so many hopes and dreams it felt like the walls of our small home would burst, now empty. My fingers trailed the doorknobs, reaching out to touch the paint we had dreamed of changing but now never would.
Walls someone else would get to paint and hang their own memories on. Walls I didn't even get a chance to hang photos on. I couldn't help the pang in my heart in the extra bedroom, seeing the ghost of myself and my wife once joking about filling it with a growing family.
Taking one last deep breath in my wood-filled kitchen, letting my fingers rest on the smooth counters. Imagining what once could have been, you know, if not for cancer. Metastatic breast cancer.
Memories we made
As I walked through our house I let myself drift through the past year. Finding the house amid an aggressive housing market and fighting hard for it. Celebrating being able to finance a house after stage 3 cancer treatments forced my partner, now wife, into bankruptcy 4 years earlier.
My wife arranging to have flowers delivered to the front door the first time I was ever alone in the house. The sweet moments we had shared watching our daughter play in the fading warmth of fall through our front windows.
That horrible empty pit in my torso those first days after their rediagnosis, the countless sleepless nights after as I became my wife's full-time caregiver. My anxiety convincing me that I needed to wake up multiple times a night when I did sleep to make sure they were still breathing.
Questioning how to heal
How we navigated raising pain levels together as a tumor ravaged the bone in their arm and we became full-time residents of cancer land. Having to explain to our daughter why mommy was so tired all of a sudden.
My wife being immobilized in a sling for six months before and after surgery to save their life. Taking every photo and video of my wife I could in preparation for surgery, just in case. Sobbing against the tile in our shower trying to figure out how to get through another day.
My wife's healing and getting to say my vows to them in our front yard on a beautiful sunny day. Those vows having even more meaning now. Healing but still sick. Terminally sick.
The past 2 years
These days my fingers touch my phone screen lingering on photos of the past two years. Selling our house and moving. Celebrating a year of life after a metastatic diagnosis. Finally having the opportunity to take our honeymoon almost a year after our wedding.
Traveling to the western United States with my wife smiling at me from the other seat. Moments captured on my phone and seared into my brain. Finding each other intimately and romantically again after such an intense year. Our daughter wearing pink at her first walk for breast cancer, losing her first tooth followed quickly by three more.
Celebrating another year of life
Celebrating another year of life, two now in cancer land. Daring to dream that we might make it to five or even ten years. Moments I was scared my wife wouldn't be here for, wouldn't be well enough to enjoy, now snapshots and memories I'll always treasure. Pictures become more precious when they might be all we have.
I know there's a good chance that one day it might be all my daughter and I have of my vibrant wife. But for today my wife is here. For today.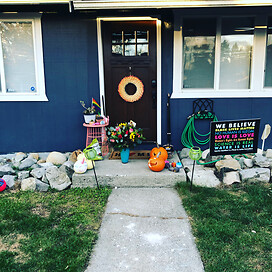 This article represents the opinions, thoughts, and experiences of the author; none of this content has been paid for by any advertiser. The AdvancedBreastCancer.net team does not recommend or endorse any products or treatments discussed herein. Learn more about how we maintain editorial integrity
here
.

Community Poll
Advanced breast cancer is an isolating and lonely disease.