A little over two years ago, I was hunting in the kitchen for a measuring cup. Disoriented, I began to search in the cupboard where I keep plates and bowls (clearly the wrong place for measuring cups). I'm not crazy after all. I was making Funfetti pancakes, and hoping to bring my husband and teenage daughters out of their rooms with smell. Much to my surprise, I could not have been further from reality.
How little did we know
My leg began to shake, drawing my husband out. "What are you doing?" he asked. If only I knew. As I tried to find words, my husband caught me as I fell to the floor, and I am not sure if memory or the repetition of the story filled in the blanks. Regardless, my seventeen year old daughter called 911 while my husband moved the furniture in an effort to keep me from harms way…how little did we know.
The EMTs rushed me to our local hospital. We were chatting about politics, and while I was not sure of what just happened let alone why, it seemed low level in the middle of a pandemic, and I answered all of their questions correctly, asking for bonus points. I'm an educator, so I wanted a high score.
The continuum of seriousness..."Ten Plus"
When arriving at the hospital, I was immediately wheeled in alone and given multiple medications that caused an "in and out" sensation. One thing I do remember with clarity is speaking to one of the physicians with education speak. I asked where I was on the continuum of seriousness with one being the least concerning and ten being the highest. I remember his eyes; pools of brown liquid, and I wondered if he was crying. "Ten plus," he replied.
Flashes of the future
The room began to swirl as flashes of my future came in and out…my daughters' weddings, future grandchildren, wedding anniversaries yet to be celebrated, and I yelled out for my husband. It was the pandemic, I was alone- except for the various medical staff bustling around, and I was just informed of my stage IV breast cancer with lymph and brain mets. What? I had been tired lately, but I attributed that to being a middle school principal working overtime in the pandemic.
A whirlwind of surgeries, treatments and emergency room visits
Soon after, I was transported, by ambulance, to a local medical center for brain surgery. I had yet to see or even communicate with my family, but off I went. I was a good student, following all directions like the compliant person I am. When I arrived, I was placed in a ten bed neuro unit, again unable to see my family. Because it was a Sunday, I met briefly with a resident who seemed reluctant to share. By Monday, I was sent home with no surgery, but with directions to call what would become my medical team for further evaluations.
Since then, I have had two craniotomy surgeries, a full hysterectomy, countless imaging (MRIs, CTs, Stereotactic radiation surgery, bone scans, ultrasounds, PET scans, DEXA scans, and X-rays), labs, genetic testing, and many office and emergency room visits. Despite five COVID shots, while in the ER for hours before emergency de-bulking of my brain (craniotomy) due to full right side loss of mobility and brain swelling caused by radiation necrosis, I got what was thought of as asymptomatic COVID, proved wrong weeks later when they discovered a lung infection diagnosed as lingering effects from COVID.
So…what now? It has been just over two years. I am taking Verzenio and Letrozole. I have been diagnosed with invasive ductal carcinoma, ER positive with ER and HER2 positivity in the brain only, confirmed by a biopsy of the lymph node, then pathology of the brain post surgery, and eleven tissue samples from the breast.
When I can, I grasp each moment
While I have my moments of grief, especially anger, my family sticks by me. My mother and husband drive me to every appointment because I cannot drive due to seizures and brain radiation necrosis. I attend physical therapy until my insurance runs out, I'm on permanent disability (still searching for my new identity), I work out most days, I attend group therapy, I see a palliative care team, I go to as many college swim meets as I can (finances and my now nineteen year old's injuries pending), and I'm ready for more.
When I can, I grasp each moment, and live life to the fullest. When I cannot, I allow myself a bit of wallowing, but I try to pick myself up again. I volunteer for the rehabilitation center where I am also a patient.
Sometimes, I ask, "Is this it for me?" Then my mother and sister plan a quick beach vacation to help me heal. I'm confused about my spirituality as I grew up Catholic, but I'm open to new thinking. I also stick to the ways I know. I'm lost sometimes on this roller coaster of life with MBC, I am also found in new ways. I have not had a drink in two years, and sobriety has been good. I embrace new experiences, and I'm always up for a challenge!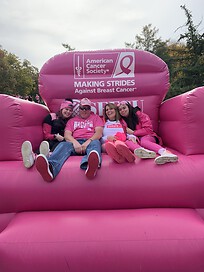 This is my story.
Help others feel a little less alone.

This article represents the opinions, thoughts, and experiences of the author; none of this content has been paid for by any advertiser. The AdvancedBreastCancer.net team does not recommend or endorse any products or treatments discussed herein. Learn more about how we maintain editorial integrity
here
.

Community Poll
Advanced breast cancer is an isolating and lonely disease.