Self-Care and Building Community During Awareness Month
Last updated: February 2023
October marks Breast Cancer Awareness Month, and this year we want to come together to celebrate and support one another with a focus on self-care and community.
As we delve into this self-care focus, we started by asking the AdvancedBreastCancer.net community what "self-care" means to them. Here is what a few of you had to say:
To me, self-care means...
"Filling your cup first before you can serve others." - Maxine D.
"Time to soothe my mental and physical health. Check-in time for my mind and body." - Mallory R.
"Taking a break."- lynzerz
The ideas of self-care and community can take on many different forms. Below, we share tools for connecting with others, shining love on yourself and loved ones, and making the most of awareness month.
Attend a self-care event
Join us on October 13 at 12:00 PM ET for an IG Live event: Community Talks: Self-Care in the MBC Community. We'll be joined by Lesley Glenn, Founder of Project Life, to talk about the importance of self-care in the MBC community. Following the discussion, Lesley will lead us in a short art therapy session. No artistic experience is necessary!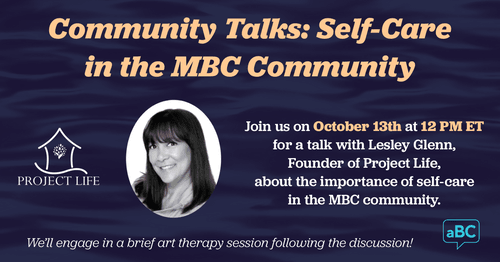 Head over to our Instagram page to follow us and get a reminder for the event!
Enter to win a Calm app premium subscription
We know that mindfulness is critical when advocating for change and living with metastatic breast cancer, so we are excited to announce the Calm App Subscription Giveaway, which will be awarded to 1 lucky winner. This subscription unlocks meditation and mindfulness practices that you can enjoy on your phone.
For a chance to win the Calm App premium subscription:
Enter your email address in the box below and click subscribe. It is that easy! You may unsubscribe at any time:
Already subscribed to our newsletter? You may still enter the giveaway by submitting your email above! Just disregard the automatic message you will receive stating you are already on our email list.
For 1 bonus entry, share a 200- to 300-word story about what has your healthcare experience been like; what it was like when you were first diagnosed; or how your life has changed since your diagnosis.
Share your story with the community
Sharing your story can be an empowering way to spread awareness!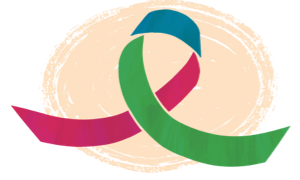 Comment on forums
Chat with others about challenges and tips for living with late-stage breast cancer.

Community Poll
Advanced breast cancer is an isolating and lonely disease.