Ask the Advocates: Managing Fear & Uncertainty
Last updated: May 2020
Welcome to part three of Ask the ABC Advocates! Feel free to post your own answers to the community question in the comment section below. You can also ask your own questions in the community.
How do you navigate fear and uncertainty? How do you cope with scanxiety?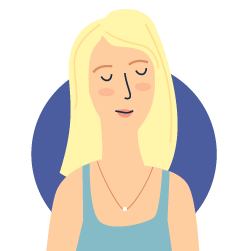 Rebecca
For me, I always come back to the bigger question: What is life about? I wanted to learn more about Buddhism, spirituality, Eastern and Western healing…just different ways of looking at life and death. I have come to a place of peace…and I think it all comes back to the present moment. The present is always the answer.
If I worry about scans, I get anxious and it's not productive. When you are living and you don't know how much time you have left, I've found that the answer is to always live in the moment. Transcendental meditation has also been really helpful for me. Being present didn't just happen, I had to train myself. It takes practice. Don't expect overnight results…you have to work on it, just like you do with anything else. In the beginning, I took antidepressants and that was so helpful to get me through that period of shock and adjustment until I could develop some other coping skills. Once I started practicing meditation, I was able to go off the medication. I am able to do a better job of taking one day, one moment, one scan result at a time.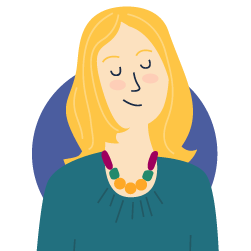 Emily
As much as fear and uncertainty are a part of life, it is easy to let them run wild in your mind - I know I struggle mightily trying to keep fear from taking over my life. In some ways, keeping our household routines can be a great distraction. So often after a metastatic diagnosis, we are told to go on grand adventures, take the trip of a lifetime, and live life to the fullest. However, this mindset stresses me out further. I try to prioritize the things I can control: not overloading my schedule, getting enough sleep and decent nutrition, and keeping my family's routines and rhythms as consistent as possible. Spending quality time with my son is one of my greatest joys, and so I try to do whatever I can to make his and my time together as special as possible, even if they are doing normal things like going to the park.
Honestly, I wish I had a good answer. My scanxiety gets worse with each scan, all aspects - the buildup to the scan as well as waiting for the results. It feels increasingly ominous.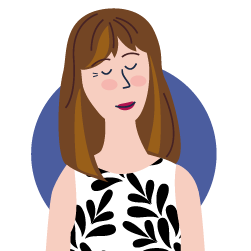 Susan
I am entering my 6th yr living with metastatic breast cancer so, the way I navigate fear and uncertainty now is much different than how I did when I was first diagnosed. The first three years were much more of a rollercoaster. I was going for PET scans every three months. I tried to pack as many family vacations in as I possibly could before my "impending death". I set future goals for myself so I had something to look forward to and concentrate on instead of my next PET scan date. Now, thanks to my palliative care doctor, I am taking an antidepressant. That has helped enormously. I am involving myself in more conferences and events within the metastatic community which gives me a sense of purpose and keeps my mind off myself.
I cope with scanxiety with music. Lots of music. I have created playlists with specific music that I listen at specific times leading up to my scan. Yes, I am very superstitious this way, but only in this way. The week before a scan I listen to calming music at night to relax me. It helps me to fall asleep easier. During the day, I will listen to music that are tied to happy memories. Songs that bring me back to events or situations where that particular song may have been playing, like when my son and I would have a "dance party" and I would hold him in my arms and dance around the living room. In the few days before, I listen to a playlist called "Almost As Good As Xanax". Don't let the name fool you, it's all upbeat, toe-tapping, chair dancing music. Finally, scan day, I listen to nothing but Sia. In a particular order. I have not deviated from the scan day protocol in 4 years. It's more or less a superstition as I have been stable since I began my scan day ritual.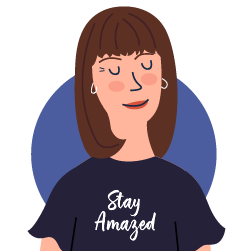 Linda
When I first was diagnosed, fear filled my entire body. This is an attribute I wanted to get rid of and deal with as soon as possible. I think fear can add stress, hurt your immune system and is a big waste of time. I thought once I become my own advocate through research, I can become a "can do" person who can try to get my life back to as normal as possible. There were a series of stepping stones to get to where I am today. These are some things I did to leave the fear behind and take charge of my life. I got a personal trainer and am at the gym each day engaging in yoga, latin dancing or cardio, and weight training. I am most alive at the gym. I have enjoyed acupuncture consistently over the past year. My acupuncturist is a medical doctor and has been a great guide to calm my inner spirit. I continue to see her every three weeks. I read informative hope-filled books and have found the gift of metta meditation (loving kindness toward self). I no longer micromanage my blood test or scan results. I have changed my diet. My best attribute is listening to my intuition.
I have not had a scan since October 2018, but I usually deal with my fear by remembering the little children who have cancer and who might be enduring the same scan I am going through. Let's face it – it is what it is, and these results will direct my path once again. I am learning to try and stay positive and stay amazed.
This article represents the opinions, thoughts, and experiences of the author; none of this content has been paid for by any advertiser. The AdvancedBreastCancer.net team does not recommend or endorse any products or treatments discussed herein. Learn more about how we maintain editorial integrity
here
.

Community Poll
Have you ever changed your treatment regimen because you were experiencing side effects?