Taking a Closer Look at Advanced Breast Cancer
Receiving an advanced breast cancer diagnosis can be one of the most overwhelming things an individual can experience. No matter what anyone says or how hard you try to avoid it, cancer has a way of changing you and affects all aspects of your life. In order to better understand life with advanced breast cancer, we conducted a survey with questions about diagnosis, quality of life and relationships, symptoms, healthcare professional engagement, and treatment in our Advanced Breast Cancer In America survey. A total of 403 people that responded are living with advanced breast cancer and 99.5% of those are women. Check out what they had to say!
The journey starts with diagnosis
The process of diagnosing breast cancer and staging can be overwhelming. Diagnosis may require testing, procedures, multiple appointments and conversations with numerous healthcare professionals. In this survey, 67% received a diagnosis less than 2 weeks from their first appointment with a healthcare professional. Although in most cases an initial diagnosis was reached quickly, over one-third of people sought out a second opinion, which can be helpful in confirming a treatment plan that meets your needs. In most cases, treatment decisions need to be made very quickly and it was noted that chemotherapy, radiation therapy, and surgery were the leading treatment options discussed at diagnosis. This timing leaves little time for the individual to process what they have been told and they are often left feeling alone and overwhelmed. This can make an extremely stressful situation even more difficult.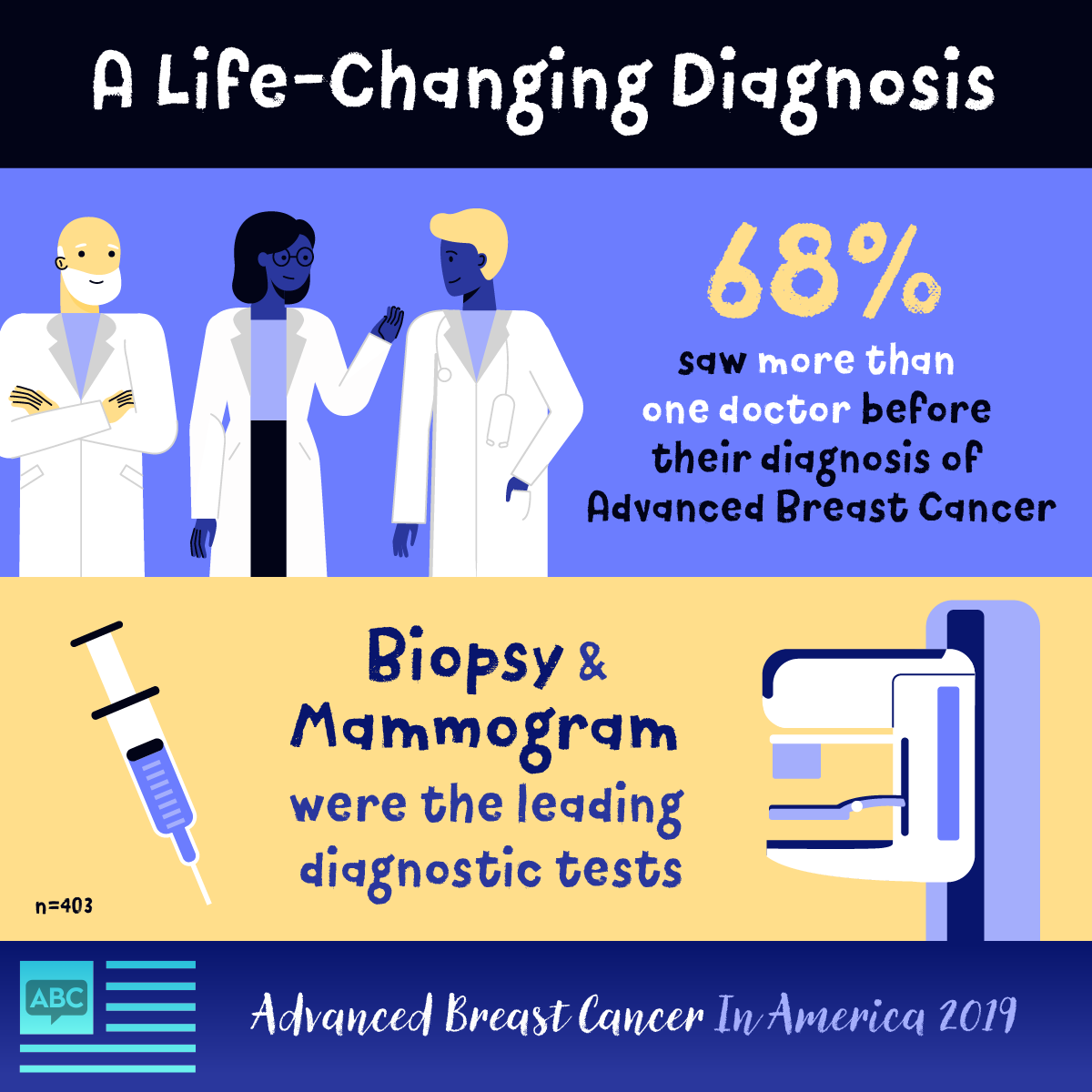 Coping with the symptoms and side effects of advanced breast cancer
Living with advanced breast cancer can be challenging. In addition to symptoms from the disease, treatments can cause unwanted side effects and create additional strain on a person's body.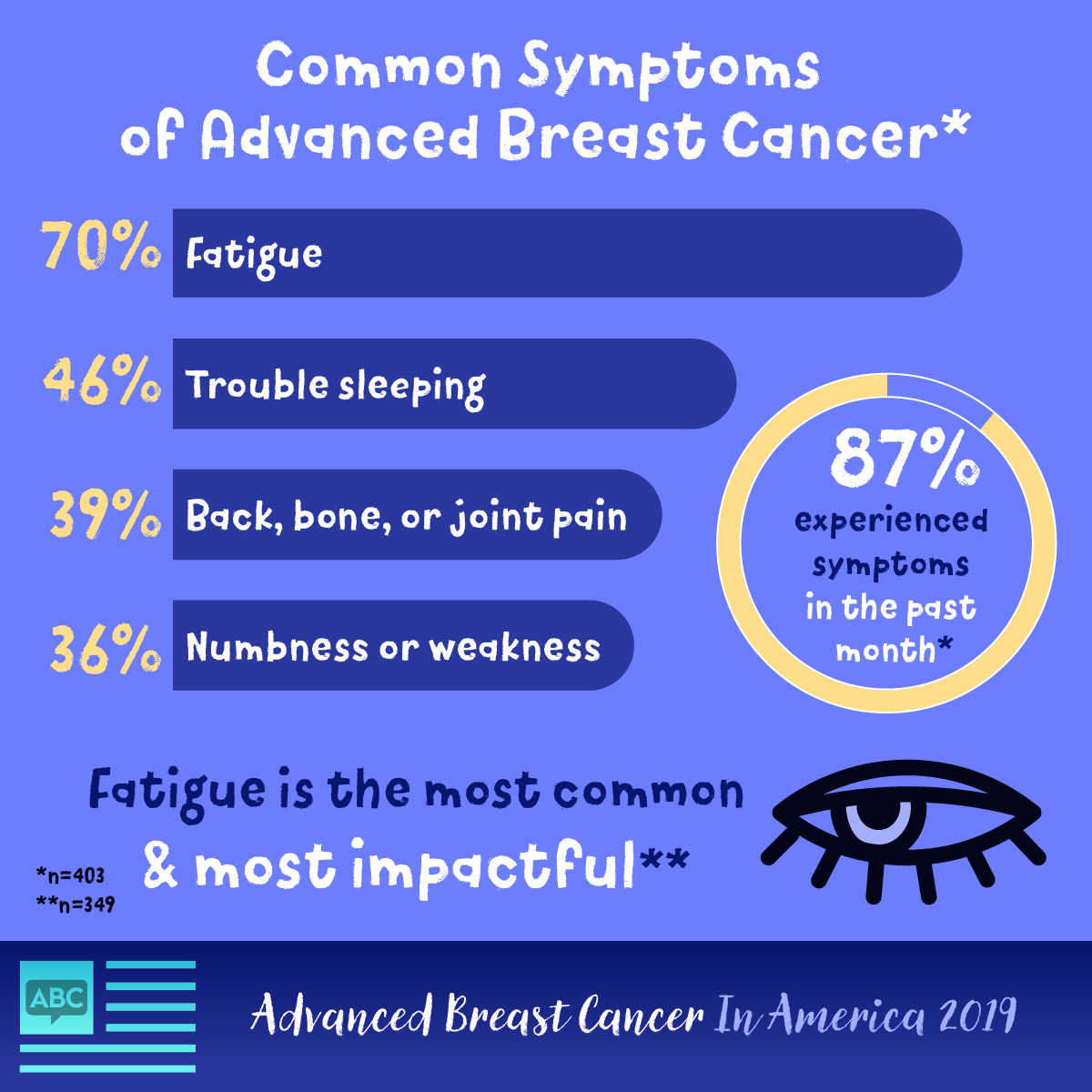 Benefits of finding the right healthcare team
In most cases finding the right healthcare team makes a big difference in how you feel about your care. A good doctor-patient relationship can help you feel more in control of your health, and more prepared for the journey ahead. From the survey, 67% of patients regularly see a medical oncologist and felt like overall they have a positive relationship with their healthcare provider. More than 75% felt comfortable discussing all aspects of breast cancer with their healthcare team and were satisfied with their care.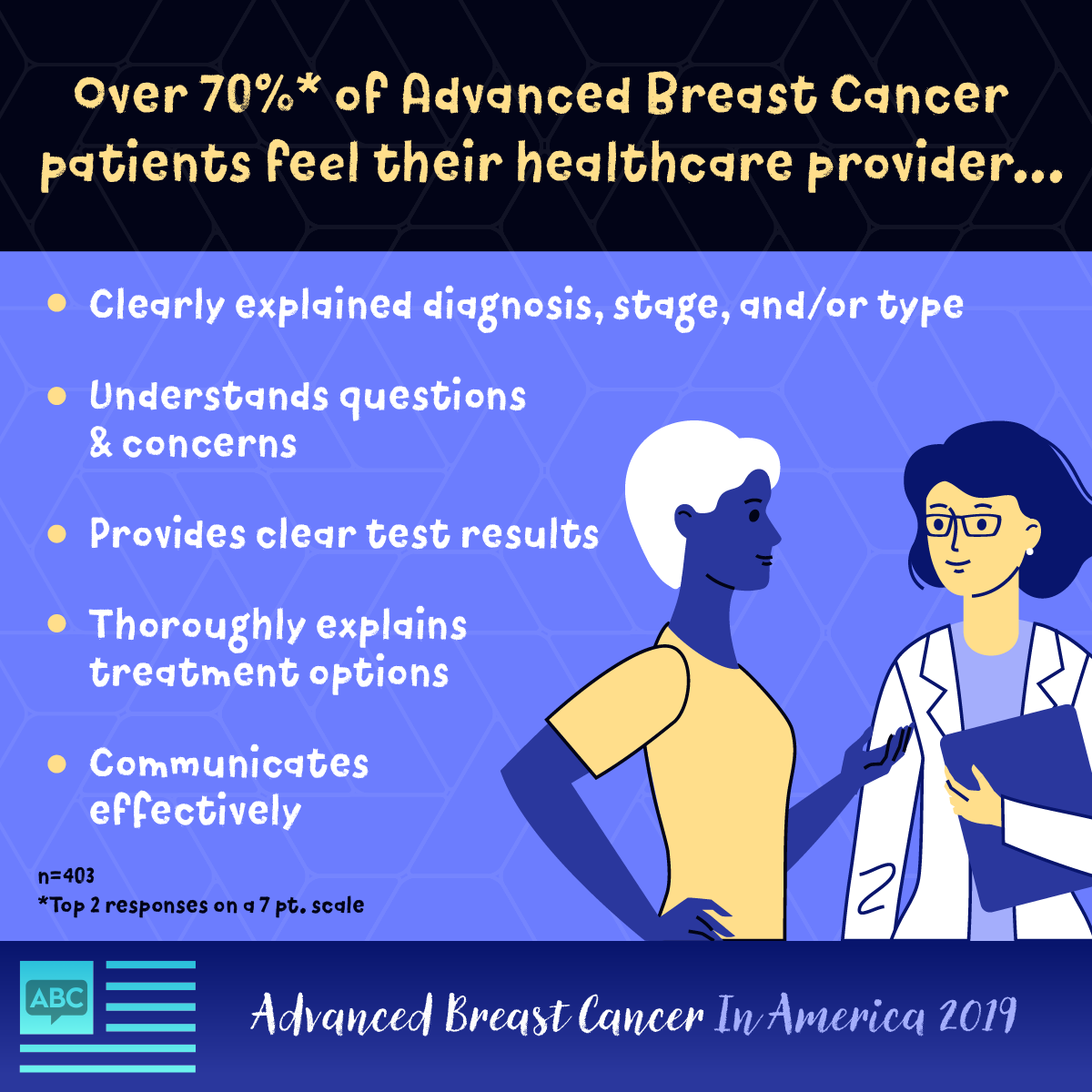 Navigating a dynamic and constantly evolving treatment landscape
Over the past few years, many new breast cancer treatments have been approved for use with the goal of offering more treatment options for patients. Treatment for advanced breast cancer often starts very quickly following diagnosis. Results showed 7 in 10 started on treatment or had surgery within a month of diagnosis. 50% felt their breast cancer was under control (selecting 6 or 7 on a 7-point scale), however, 68% of those with active cancer would be interested in a future advanced breast cancer clinical trial.
Typically, advanced breast cancer patients are very involved in their treatment and while healthcare professionals are the leading resource used to learn about or manage breast cancer; ½ use internet to search and breast-cancer-specific websites as an additional source.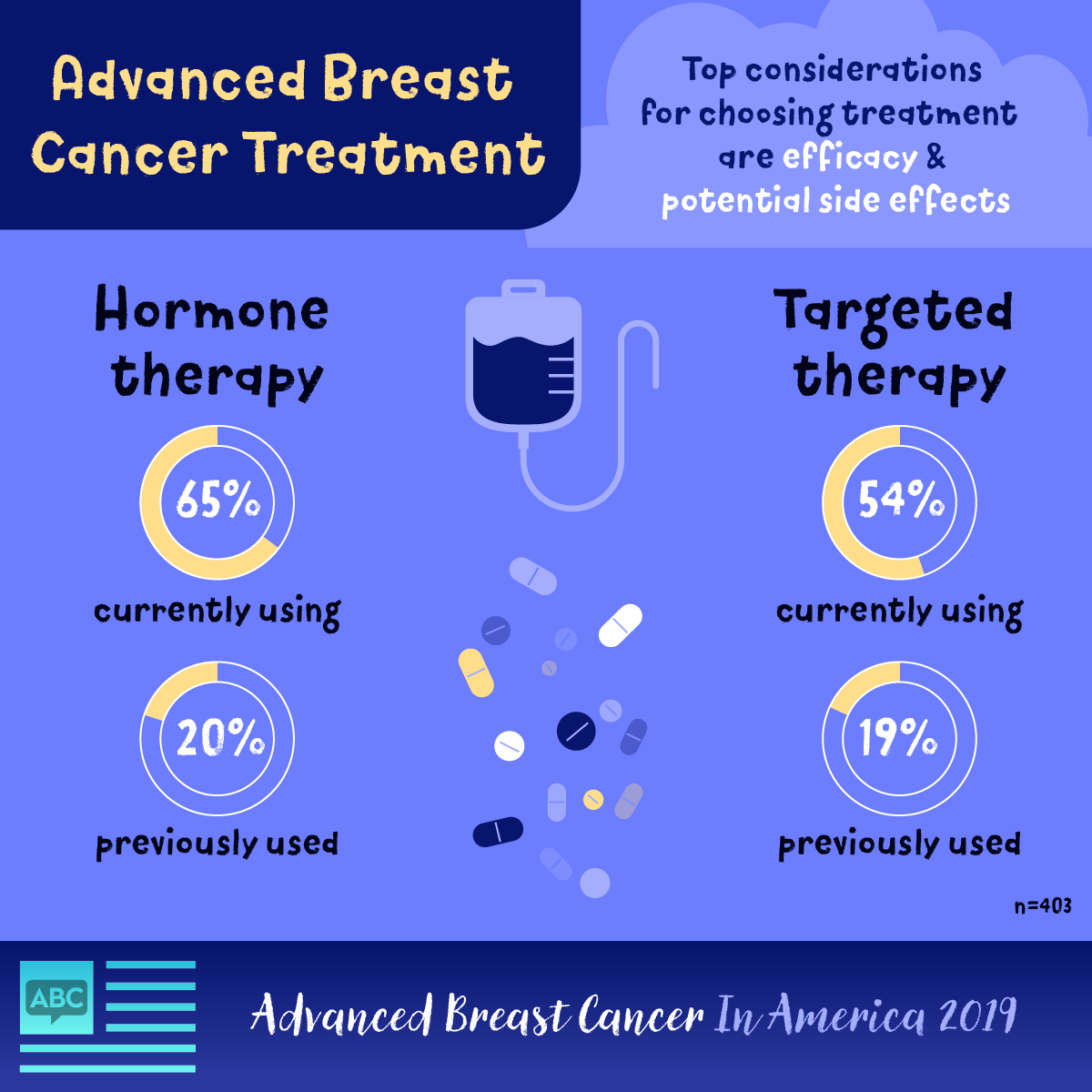 Effectively coping and the impact on quality of life
The outlook for living with advanced breast cancer grows more hopeful each day, due not only advances in treatment, but also factors such as positive thinking, acceptance, coping techniques, and emotional support. Patients validated these factors are incorporated as a part of their overall medical plan and noted that acceptance of their illness and ability to enjoy life have the highest positive impact on their functional well-being.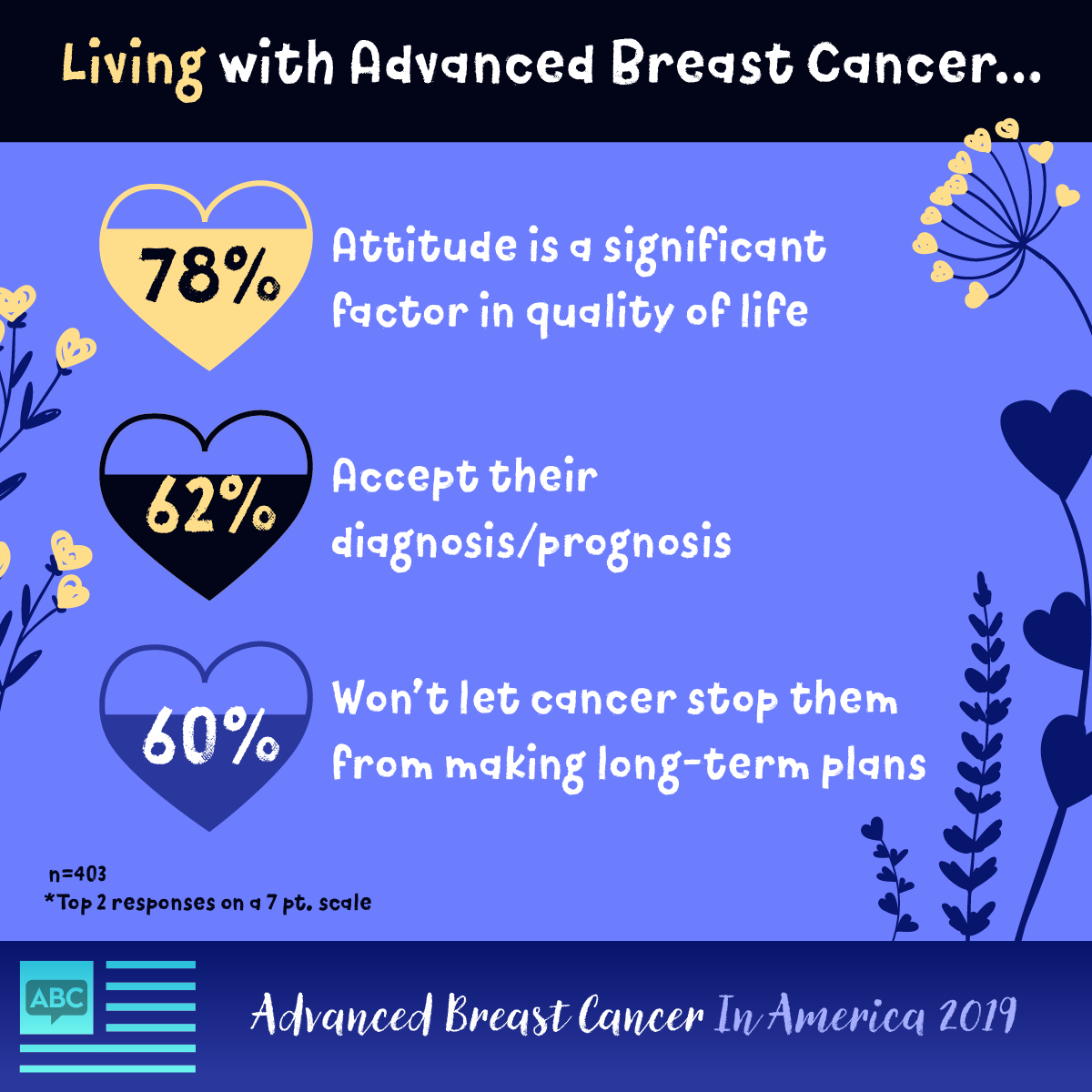 The Advanced Breast Cancer In America 2019 survey was conducted online from September 2018 through January of 2019. Of the 597 people who completed the survey, 403 were people who have been diagnosed with advanced stage breast cancer, 167 early stage patients, and 27 were caregivers of people with advanced breast cancer.

Community Poll
Internal radiation therapy is the most common type of radiation used to treat breast cancer.