Sarah Kelly
Last updated: February 2023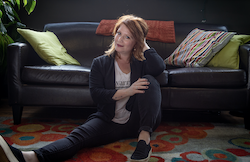 Sarah was previously a health leader on AdvancedBreastCancer.net.
Sarah Kelly is a stage 3, Triple Negative Breast Cancer. Sarah was 36 years old had recently gotten married, had a 14-month-old and was 32 weeks pregnant when she was diagnosed.
After 2 rounds of chemo, Sarah was induced, delivering her daughter on Monday and having her 3rd round of chemo that Friday, she calls that her Warrior Week!
After receiving results her cancer was not hormone-driven or genetic, Sarah started to examine her environment. Her 'Aha' moment came when she began researching the ingredients in her beauty products. This led to her developing SaltyGirl Beauty with her sister Leah, a beauty and body care company that focuses on education, empowerment and green beauty for all women but especially women with cancer!
Sarah is also one of the co-founders of the Cancer Wellness Expo an annual conference in NYC that focuses on wellness, self-care, pampering, and beauty for women with a cancer diagnosis and caregivers. Sarah lives in Kennebunk, ME with her husband Chris and 3 kids Graham, Anna, and Caleb.
Click here to read all of Sarah's articles on AdvancedBreastCancer.net.