We are heartbroken to share that on Thursday, June 24th, 2021, Lynette Erwin Waller passed away. Lynette was a cherished member of the AdvancedBreastCancer.net community and an incredible patient advocate for metastatic breast cancer. We are so honored that Lynette shared her story and experiences with our community. She will be deeply missed.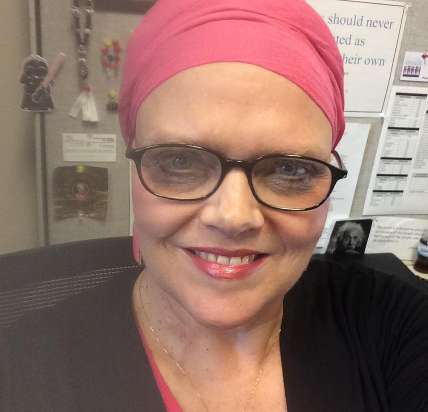 Lynette is a 60 year old retired victim advocate living with stage 4 metastatic breast cancer. She has three grown children and is married to her wife, Kaye, who is a musician and author, as well as Lynette's caregiver. Her degrees are in vocal music and pedagogy and she has taught private voice and piano for 30 years. She is the author of an historical fiction novel, So Faithful a Heart: The Love Story of Nancy Storace & Wolfgang Mozart. Lynette became a victim advocate in 2014 and received her professional certification (Certified Domestic and Sexual Violence Response Professional), the following year. She served for six years as an advocate in a local Domestic and Sexual Violence crisis center before having to retire due to metastatic breast cancer.
Lynette is currently undergoing treatment for mets in the bones in her lower back, left hip, right shoulder, skull, and lesions on her liver. She has had a difficult time finding the right chemo treatment that won't make her too ill and work to control the disease at the same time. It has been a challenge, but she is tenacious and refuses to give up.
Lynette enjoys reading, writing, classical music (Mozart is her favorite composer), and cooking. Her wife is an excellent cook, too, and prepares the daily meals while Lynette loves to do the holiday cooking. Lynette also enjoys keeping in touch with her many supportive friends and family on Facebook, as well as participating in the online groups such as Advanced Breast Cancer. She is an advocate at heart and loves to help and encourage people who are dealing with crisis in their lives.
Click here to read all of Lynette's articles on AdvancedBreastCancer.net